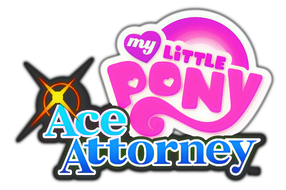 My Little Pony: Ace Attorney
My Little Pony: Ace Attorney is an animated series produced and developed by the combined work of NCStudios and Hasbro. The show was created on the premise of delivering the My Little Pony: Friendship is Magic line to the more mature viewers en masse, and to introduce the concept of the Ace Attorney series into a serial animation. The show follows the exploits of its namesake character Phoenix Wright and love interest Twilight Sparkle through various genres of situations and adventures. The series is a cesspool of mood whiplash, as episodes vary from heartwarming love stories, to frightening horror and bloody violence, to bittersweet drama and to gut wrenching comedy.
The series combined characters from both the My Little Pony and the Ace Attorney franchises, as well as several brand new creations for the series and two special guest characters known thoughout the NCStudios. References to both series' and their respective works are constantly made throughout episodes, as well as internet memes, shout outs and references to many other works snuck inside often. Since the show runs on the NCNetwork's late night block of programming, censorship was rendered obsolete, much to the surprise of many My Little Pony fans.
Episodes normally run an hour exactly, with specials and public service announcements varying in length. The show runs on a 'story a day' style, with various story arcs spread over numerous episodes on occasion. While Phoenix Wright serves as the face of the series and undoubtedly the main character, episodes can and will feature other characters to expand upon their development. Some episodes run without a single frame of Wright or even a name drop.
The show strives to keep a 'wide open mindset' throughout its run. Various touchy subjects such as the justice system and lesbian relationships are not only mentioned and utilized, but serve as anchors for stories through the series. Numerous advertisements state the series is 'designed to rip the stereotypes of the world in three'. And viewers were told; 'forget everything you know about cartoons today. NCNetwork is determined to push the boundaries of standard television, and flip off as many scrooges as we can'.
Contents
Episodes